Whether styling to sell or styling to make your home, artworks are a great way to add colour, warmth and personality to your home. Bare walls won't cut it in the Brisbane real estate market and the selection and placement of art makes an impact with potential buyers. Here we share some tips for styling your walls. We cover five key spaces of the home outlining how to select and position art to create balanced and harmonious spaces.
Living Room
The wall behind your sofa is the prime spot for a beautiful piece of artwork. Nine times out of ten we centre our artwork to the sofa. However, depending on the length of the wall and the occasional pieces (side table, floor plant, floor lamp) that sit alongside your sofa, you should consider hanging your art off-centre in order to create a balanced aspect. Choose this art carefully because it is one that you will be looking at a lot. Consider the colours within the artwork and what cushions they allow you to use. Remember that cushions are something you may alternate with the change of season for a quick update.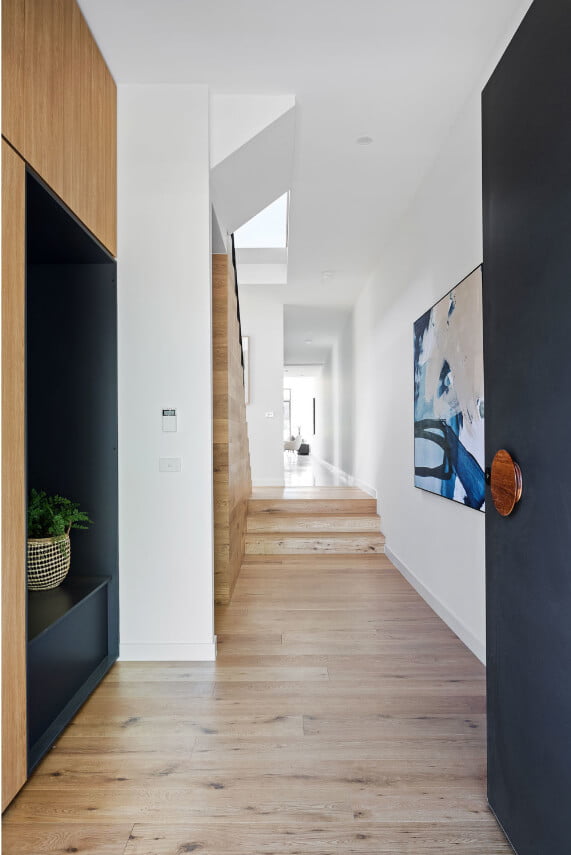 For The Generous Entry
Use a large statement piece of art at the entrance of your home to create a sense of welcome and interest. If your front door is painted with a feature colour, consider picking up this colour in the artwork in order to complement each other. Select a size of artwork that is suitable to the size of your entry. A large blank wall is screaming for a big piece of artwork; however, a tight hallway is best left alone as artwork can make a narrow hallway feel narrower than it is.
Staircases
Placing artwork at the top and bottom landings of your stairs gives a sense of arrival at each level. It's much nicer to walk downstairs to a favourite piece of artwork rather than a blank wall.
Select artwork that ties in with the finishes of the home to create continuity and balance within the space. For example, if you have timber floors consider using a timber framed piece with the same tones or if there is a feature, such as balustrading or pendant lighting over the stairs, tie your artwork in with that feature.
Dining Room
The dining room is the hub for conversation and household action so this is where bold art thrives. Centre your artwork to the dining table and if there are two opposite walls that require pieces consider a mirror for the other wall. A mirror balances a bold piece of art and avoids two pieces clashing. A mirror has added benefits of creating the illusion of more space and reflecting natural light throughout a space.
The Bedroom
Your bedroom is a sanctuary so avoid dominant, bold artwork here. Choose artwork in soft, calming colours or photographic artwork of your favourite tranquil landscape. If your bed has a bedhead consider the size of the artwork. For a well-balanced bedroom opt for artwork that is no wider than your bedhead.
The Wrap on Styling Your Walls
To wrap, we have a few universal tips for styling your walls. Artwork should be positioned on the wall at eye height for a standing person of average height. This is approximately 180 cm from the floor to the centre of the piece. Horizontally, art should sit centred with the key furniture (sofa, bed, table) below it. The exception to this rule is when you have occasional pieces that will balance an offset position.
Too many pieces will produce a chaotic and cluttered appearance. Out of proportion works will look off balanced. Follow these rules and take the time to create a plan. A plan for styling your walls is necessary to ensure a coordinated appearance throughout your home.
A final note, Urban Road is one of our favourite online art suppliers. Find your favourite print, then select size, frame and colour to create unique combinations to suit your home. If you have the patience, keep an eye out for their next sale. We've recently seen 30% off all stock.
Emma Tobin, Director and Lead Stylist at The Urbane Property Stylist, holds a B.D. (Interior Design). With over ten years of experience in Interior Design, Landscape Architecture and Property Styling, Emma has earned a reputation for her attention to detail and ability to deliver.